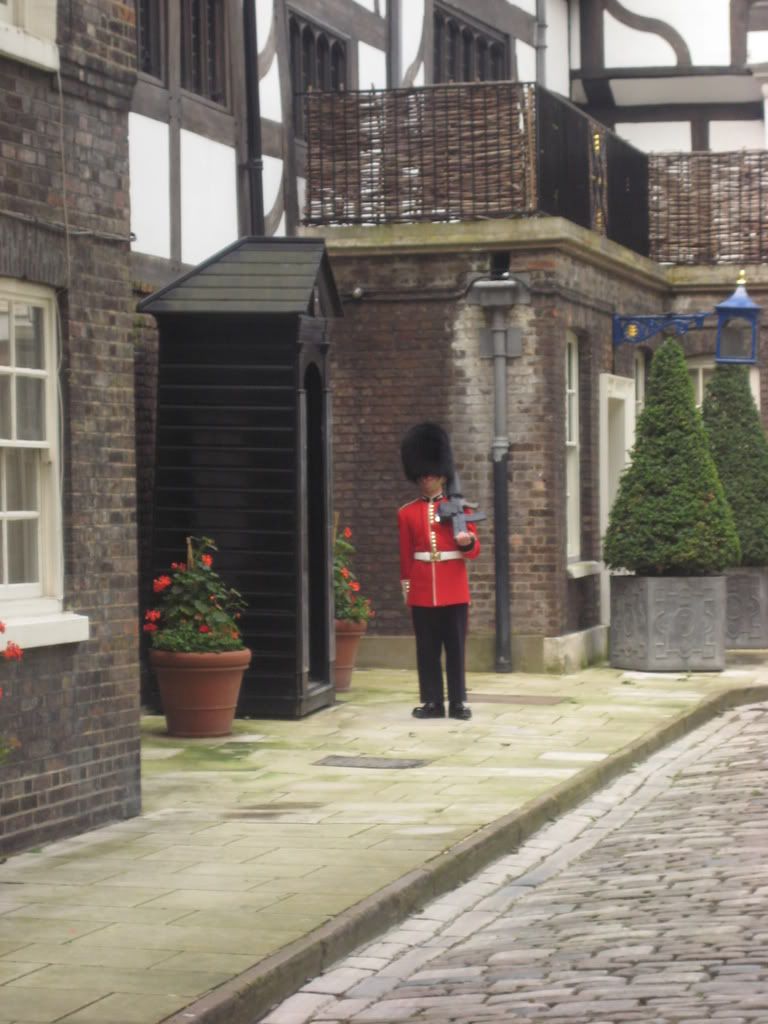 Spooky day.
Starting off with the
Tower of London
. Which isn't a tower at all, but a castle.
But it's where lots of people have been imprisoned and beheaded so it's creepy none the less.
Little bit of history... It used to be the place all the kings and queens lived at, but somewhere along the way they moved to Buckingham. Still not sure why or when, but then it was converted to a prison.
We saw the place where Ann Boleyn got her head cut off. They've replaced the chopping block with this
watery art piece
, which I think is a shame. I would have liked to see the chopping block instead.
Apparently, she was brought in by a secret passage in the river so no one would know she was there. They called this the
'traitors gate'
and you can only get in by boat.
The Tower was cool and creepy, and they had people
dressed up
reenacting scenes which was awesome. Mostly because we knew their accents weren't fake. :) And we saw the armory where all the armor and weapons of all the kings are kept. Looking at the
armor
, you can tell what the knights were very keen to protect (if you get my drift)
But by far the coolest part of the Tower are the
crown jewels
. Again, you can't take pictures in there, and you have to stand on a moving platform to see them (no lingering allowed). But it was awesome. Every king or queen has their own
crown
and scepter and ring for inauguration and they have them all there going back to like 1200 or something. It's insane.
I saw the hope diamond in washington and it was cool, but this was 100 times better. How awesome would it be to just get to
wear one
for a minute? My inner little girl princess was squealing with delight.
After the tower everyone but Jesse and I went to Greenwich to see the Prime Meridian. It was a 2 hour boat ride and I guess Jess and I just decided to skip it and instead go shopping.
We went into Harrod's and went to
Petticoat Lane
(which is a big huge flea market). We also hit up the British War Experience which was not quite as interesting as it sounds. There was one part where you walk through a re-enacted street of WWII London as it is being bombed by the Nazis that was kind of cool.
The lot of us met back up that evening for the Jack the Ripper tour.
It started at the Tower of London (of course - extra creepy factor) and wandered through the streets of London, guided by a
resident expert
in the subject. I don't have alot of pictures of the tour because most of it is, "Look at these cobblestones. This is where a victim was found dead and de-gutted" and it starts at dusk so by halfway through the tour it was a little too dark for pictures. What's neat about the tour is that alot of the places still exist as is. You can still see the little halfway house where the prostitutes stayed. It's not that any more of course, but it's just as it was in the 1800's. That's pretty cool. And the buildings are real close together and it getting dark and all - it can make for a pretty creepy tour. Our guide was more matter of factual than dramatic though.